Shopping ?.....Use the link to our
Amazon store!!!
....Unfortunately, at this time we are not taking any new adoption applications. If you are a former or current GEGR adopter, please email us....
Picture of the Week
They went THAT way. Juniper is loved by the Rupp family
Features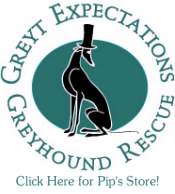 Welcome!
You are Visitor Number

COMBINED FEDERAL CAMPAIGN
GEGR is a member of the Combined Federal Campaign through the Animal Welfare Fund in the National Capitol, Chesapeake Bay, St Marys, Potomac, Eastern Panhandle and Northern Shenandoah zones! Select CFC# 71151 to donate!

Cannabis and CBD Science for Dogs
Thank you Canna-pet for supporting GEGR! Shop from this link and get 20% off and the proceeds are donated back to GEGR. If you are interesting in finding out more about how your pet can benefit from CBD
CLICK HERE.
GEGR is a participant in the Amazon Services LLC Associates Program, an affiliate advertising program designed to provide a means for sites to earn advertising fees by advertising and linking to
Amazon.com.
 
Get to know our friends and benefactors
Click here
to find out about more Businesses That Give Back to Adoption!
We are an all-volunteer non-profit 501(c)3 organization.
Want to help?
Click on the button below to donate through PayPal using a credit card or bank account
Donate through your PayPal account with
Click Here
for some other ways to help!
All donations are 100% tax-deductible!